❝

Be careful with my phone please, it is my life and soul in rectangular form.

❞
—"Our Stuff", Panda to Grizzly when putting his phone in the backpack.

Panda Bear is one of the main protagonists of We Bare Bears.
Panda seems to have more knowledge in things regarding technology and things from Asian culture. He is the middle brother and, as stated by Grizzly, is "the link that holds them all together". He seems to be the most delicate of the trio, being both quite anxious and, as Grizzly also described, "cute". Even so, he does care about his brothers and will try to pitch in whenever he can.
In Panda 2, it is revealed that he was originally raised in captivity in a Chinese Panda Zoo until he escaped and met Grizzly and Ice Bear on the way.
Appearance
Panda is an anthropomorphic bear. Being a panda, his body is covered with black fur, with white fur on his head (excluding the ears) and a stripe across his belly. He is shorter than his brothers, with a wider frame than both. He is shown to have small black eyes surrounded by black fur.
Personality
Panda is characterized as neurotic, artistic, and something of a drama queen.
He's gentle, yet somewhat cowardly and insecure. He is probably the most frail of the three bears, as in "Our Stuff" he was shown being hit by a basketball that knocks him over and he calls for a time-out. He is also severely allergic to peanuts and gets embarrassed easily.
His hobbies consist of dating sites, social networking, anime, video games, and art. He is shown to be talented in drawing and painting in general, most notably manga. He falls in love easily and tries desperately to get a girlfriend.
He is sensitive and easy to upset. Despite being mostly compliant, Panda can become assertive if need arises, especially when it comes to his brothers in trouble.
In Three Bare Bears
Panda's, as well as his brothers' personality, does experience some change between the comic and the cartoon. In The Three Bare Bears, Panda is markedly more negative, being quick to anxiety and fear. His brothers tend to dote on him, particularly Grizzly.
Abilities
Agility
Despite not having much athletic prowess, Panda has shown to be surprisingly agile. As seen in "Video Date", he is shown to outrun both of his brothers for moderate periods of time and is able to evade them whilst holding their laptop.
Memory
Panda has quite the photographic memory as, in "Our Stuff", he is able to remember nearly 14 people in near precise detail and is able to draw accurate facial composites. His art style does a terrible job at expressing this, however.
Primal Form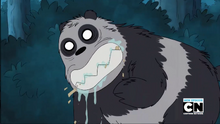 Under the influence of extreme hunger, like Ice Bear, Panda can turn primal in which he will become extremely aggressive and willing to attack anyone on sight.
In his primal form, Panda is very hairy with bleak white eyes as well as sharp teeth. His strength also being augmented immensely in this stage to the point of matching Ice Bear in his equally savage form.
This stage can be reversible if he gets access to food sources.
History
In Panda 2 it is learned that as a cub, Panda lived in an animal sanctuary in an unknown area of China. He was extremely cheerful and polite, even greeting the food chute that fed him as a friend. Unlike his adult form, bamboo was his favorite thing to eat. One day, a staff member in the observation room for Panda's enclosure noticed he looked lonely and gave him a panda doll as a companion. Panda and the doll were inseparable until one day he used the doll to help him climb up and see through the room's window, from which he had seen light shine from time to time.
Upon looking through the window, he saw a television and was absolutely enraptured. The very next day, he (along with his stuffed companion) escaped so that he could watch 'the magic box' (as he called the television) show him its wonders, but it was turned off, so he went to find another. He found the security camera room, but the televisions showing the camera feeds quickly bored him. After wandering for a while, he saw some trees outside a window set in a door and thought this window was an even ''bigger'' magic box. Unfortunately, the sanctuary staff had realized he had escaped and chased him until Panda found an open window. He jumped out to his freedom, but was forced to leave his stuffed companion behind. He escaped in a truck filled with bamboo as the sanctuary staff continued their search.
After some period time, he met Grizzly and Ice Bear and they become sworn brothers after that.
Relationships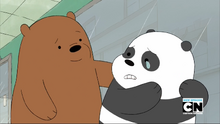 Grizzly and Panda are brothers. Grizzly is a leader figure to both Panda and Ice Bear. In "Our Stuff", Grizzly helps Panda find his backpack, which contained his phone, and can also bear stack as a way of traveling faster. The two have been shown to be very close to each other, especially in episodes such as "Jean Jacket", "Nom Nom", "Brother Up", "Occupy Bears", "The Road", and "Pet Shop", to name a few. In "Cupcake Job", while trying to protect themselves from being attacked by an angry mob of customers, the two admit what they had done to the laptop when they hatched the idea of making a giant cupcake. They end up scooping up all the cupcake batter that covered the room and used it to create a giant, and disgusting, cupcake. In "Hibernation", when Grizzly's brothers checked up on him, they woke him up because of a dream he was having. They then said they would head back to the cave to let him rest. Grizzly didn't want them to leave which led to Panda offering if he would join them outside, to which Grizzly accepts. The three end up sitting out under the stars together.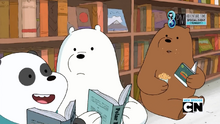 Ice Bear and Panda are brothers. They are able to bear stack as a way of traveling faster. They have been shown to be very close, such as in "Jean Jacket", when Ice Bear and Grizzly were extremely upset after Panda got smacked and when he consoled him after Grizzly's sacrifice. He also voluntarily stepped in to assist Panda in "Brother Up" and has shown great emotion after being separated from both of his brothers in the cub episodes. Ice Bear is shown to be very protective of Panda, as shown in "Nom Nom". They are shown working together to stop Grizzly's obsession with the burrito in "Burrito", and in the short, "Bear Cleaning", when they posed and took several selfies with Grizzly's clump of fur before putting it back. In "Hibernation" and "Panda's Sneeze" alike, they were shown bonding with each other. In the former, they were shown reading facts to each other about their respective species, and in the latter, Ice Bear had blushed when Panda asked if he thought his sneeze was cute, and later, at the cute-off, Ice Bear gave him a rose and called him precious. Panda has actually never mentioned Ice Bear by name.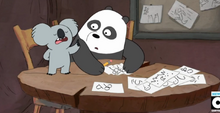 The two does not really know each other that well, however, Panda knows of the incident between him and Grizzly that occurred in "Viral Video", and even refers to the koala as "a butt" in "Nom Nom". In the same episode, when Nom Nom is able to manipulate Panda and Grizzly and get them to do his bidding, he ends up luring them into a potentially deadly trap in order to regain his own fame while also trying to keep Ice Bear out of the picture as he had discovered his plan. Ice Bear managed to save Panda and Grizzly while Nom Nom ended up getting what he wanted in the end, though it was not done according to his original plan.
Much like his brothers, Panda's relationship with Chloe is explicitly passive, with no particular empathy towards either party. In "Chloe", Panda was submissive during Chloe's research and was often shown getting along with her. Evidently, Panda did confess to sabotaging Chloe's report alongside his brothers and took part in answering student questions to assure she acquired a perfect grade. Alongside Grizzly and Ice Bear, Panda tried to help Chloe become more confident in "My Clique", taking inspiration for his lesson from romance movies. When Chloe put what she learned to the test, she found herself coming across as odd to some of her classmates and left campus grounds, embarrassed. She ends up explaining to Amy how she felt after the Bears throw a "mature" party for her at their house. When the party is over, she helps the Bears clean up and begins to play charades with Grizzly, Panda and Ice Bear joining in.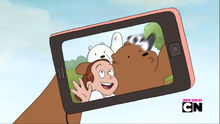 Lucy is Panda's love interest in the episode "Panda's Date", in which she saves him from having a potentially fatal allergy attack with her spare EpiPen. In the episode, Panda started hanging out with Lucy a lot, but his brothers ruined the occasions. When Panda ate out with her at the restaurant, Lucy seemed annoyed by Panda's strange behavior, but she still remained friends with him, implied by her visiting Panda in the hospital and giving him his food from the restaurant.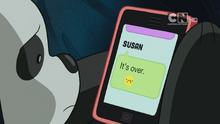 Susan is Panda's ex-girlfriend. They had dated via texting and never met face-to-face. Panda has expressed that he wished not to get back together with Susan because he feels like he needs alone time, though she was only heard from in the pilot.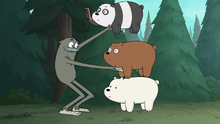 Panda has mixed feelings for Charlie, not enjoying his company too much whenever he comes around, though Charlie tries his best to make him and his brothers happy. In "Charlie", his behavior quickly gets on Panda's nerves, as he not only smacks his phone into a bowl of soup but also forced Panda to sleep on a soggy pillow and was generally being inconsiderate, however they did reconcile before Charlie had to leave. In "Brother Up", Charlie helped inspire Panda to start acting like the big brother; the leader, after he accidentally scared away a pack of wolves. Charlie also threw the Bears a party in the wilderness in "Charlie and the Snake" to help show them how much he appreciates their friendship.
In "Chicken and Waffles", the two seem to grow closer after Panda has to ask him for help getting to the restaurant after he accidentally broke his contacts. Charlie does everything he can to try and get to Chicken and Waffles. After a dispute, the two attempt to go their separate ways when Panda gets into trouble. Charlie goes to save him, but the tables turn quickly. Panda reaches out to save Charlie. In the end, Panda, and his brothers decide to eat with Charlie than at the restaurant.
Though Panda had first met Annie for a supposed date with him, he seemed to only take a liking to her as an acquaintance after meeting her. Annie, of course, saw him as an acquaintance as well. In "Yard Sale", Panda had assisted Annie when she had gone into labor, acting as the father under Ice Bear's command as Paul had fainted from shock.
Designs
Trivia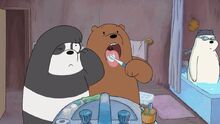 Zoology
References