Road Trip[2] is the 16th episode of the third season of We Bare Bears and the 68th episode overall.
Synopsis
Chloe and The Bears take a road trip to see a meteor shower. Ice Bear, the only one licensed to drive, is put in charge, which becomes harder than he thought.
Plot
TBA
Features
Trivia
Ice Bear is shown to have a driver's license in this episode and is implied to have owned one prior as well.
Cultural References
Grizz utters the line "O Captain! My Captain!" twice in the episode. This is both the title of the famed poem of the same name by Walt Whitman, and a famous line from the film Dead Poets Society, starring late actor and comedian Robin Williams, in which Williams' character (an English teacher) teaches his students about Whitman's poem.
the scene ice bear is trying to park, it is a reference to  the video "Woman can't drive - Parking disaster in Dortmund"
Errors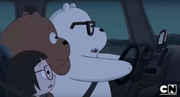 When Ice Bear says: "Ice Bear will not say it again. We came too far" the background turns gray and stops moving for a split second.
References
↑ http://www.showbuzzdaily.com/articles/showbuzzdailys-top-150-thursday-cable-originals-network-finals-8-10-2017.html
Ad blocker interference detected!
Wikia is a free-to-use site that makes money from advertising. We have a modified experience for viewers using ad blockers

Wikia is not accessible if you've made further modifications. Remove the custom ad blocker rule(s) and the page will load as expected.