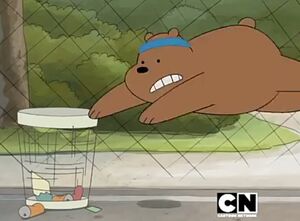 Wikia got to interview the cast and creators behind We Bare Bears in the pressroom at San Diego Comic-Con! We were there with creator Daniel Chong, and Bobby Moynihan, the voice of Panda. Earlier this week we asked YOU to supply us with interview questions and we only had a limited time to ask them, but we did our best. This is the transcription of our interview.
Interview transcript
Q

So, Comic Con. This is probably not your first one.
Chong

I haven't been here in eight years. I haven't walked the floor yet, but I've only heard it's intensified greatly. I can't wait to see.
Moynihan

Two years ago since I've been here. I was supposed to come last year but I missed it. But I've been to New York Comic Con for many years, this is my second San Diego.
Q

Anything sticks out in your mind, or a favorite thing you've seen so far?
Chong

I just got here but I'm looking forward to the giant bear sack they've created for our show. It's like seventeen feet or something like that.
Moynihan

It's kind of awesome that you drew this thing and now it's a giant statue at comic con.
Chong

It's a surreal experience, for sure.
Q

It's pretty big. It towers over everything.
Chong

Apparently there's a spider in front of it. Great to see.
Q

If you could summarize the show in like three sentences as to why you want to watch it what would it be?
Chong

I think it's a show that has great characters, great stories, characters you'll love, it's a show about characters trying to fit in. I hope it's really relatable to people. I hope people connect with.
Moynihan

For me, when you explain it. It's like bears trying to like assimilate into human society. But when you watch it, you wonder if it's more about people trying to get through life. It's one of those things where if you watch it you say "I guess I'm one of those bears too." I think it's really good.
Q

Is it going to be different from the original comics?
Chong

Well the comics, when I wrote them, were a very stream of consciousness. I'd just come up with one panel and just straight ahead write it. I didn't know where it was going. In the episodes it's a little more thought out. Obviously there was more things to manage so we can't just freeform story. It's a little more structured. A little more regimented in the way we write but it'll still have the same flavor and the same heart and the same charm. So a bit of both.
Q

Have you run into any difficulties working on the show?
Chong

I think for me one of the biggest challenges was coming from feature animation. I've been working in feature animation for ten years. So coming to TV and learning the restrictions and limitations and learning about the pipeline was just a big change. For example, one thing our show dealt with a lot is excessive crowds in stores. For example, one of our first episodes takes place in a convention, a meme convention. Obviously as a convention there's going to be tons of people there but not realizing, in feature animation you could use CG to duplicate those people over and over again. But in 2D animation you have to draw all these characters.
Moynihan

They had me drawing all the backgrounds. Yeah, we just needed more hands.
Chong

It was just kind of a wake up call to the process for sure. It was a huge challenge.
Q

Is there anything you enjoy about working on TV that you'd like over feature films?
Chong

Yeah sure, I'm sure Bobby could speak to this too. But the speed at which you work, the gratification of seeing what you make come out. I worked on this movie called "Inside Out" and I was on it for like two three years.
Moynihan

I recorded almost two years ago.
Chong

And it just came out.
Moynihan

I recorded something that was before Inside Out and it won't come out til next summer. The Secret Lives of Pets.
Chong

It takes so long to work in feature but in tv it's very gratifying. You'll see things turn around so quickly.
Moynihan

It's shockingly weird that I just realized we've worked on a couple of things together but we only met through this. He was a big guy at Pixar and Monsters University and only during Inside Out did we work together. It's that thing about you do it once and it comes out two years later. Or now we've been doing it, like now I remember the audition, I remember going in being new to animation while this guy really knows what he wants. Sometimes you come in and go "Hello!" and they say, "Great! We'll see you later" and I know I'm not getting that. You were very like, this is how it should be. And I remember thinking I hope I get this.
Chong

Bobby really quick, like, Panda is the middle child who is a little sweeter and a bit more temperamental.
Moynihan

You can say stupid.
Chong

Yeah haha. But Bobby really nailed it and we're lucky to have nailed the cast that we did.
Moynihan

It is really amazing, I've known Demitri for years. I started doing the Upright Citizens Brigade and when he was doing his show I would do my show at the same time and it's so weird now that he's perfect for that and I can't hear anything else. And Eric Edelstein, I've known for years and every audition we went to and we're both big stocky guys so I'd always see him all the time. And I wouldn't get the part and he would get it. Stuff like that. And he's the guy in Jurassic Park, he's the guy who gets eaten.
Q

Jurassic World.
Moynihan

Oh yeah, right. He was one of the guys who dies at the beginning. He's like eating a sandwich and decides to go in and get the dinosaur but ends up getting eaten. And I was like "yay!" I heard he gives a really grizzly fear sound. It's the saddest killing in the Jurassic Universe. Because he's sitting on the ground like whispering, "help me". But he's so good in it.
Q

Is there anybody that you would love to work with?
Chong

Dude, well, we uh. Where do we begin? Voice acting wise we've been lucky we've got a lot of great guests. Like Ellie Kemper to do a voice. We just recorded Bo Burnham a couple of days ago. Bo is awesome, he really wanted to. We got Patton Oswalt. Jason Lee. We're so lucky with our main cast, but we got a couple dream actors we're looking at. No one I can mention now but people we're looking at.
Moynihan

It's Obama. Michelle Obama.
Q

Do you have any favorite fan interactions?
Moynihan

Two years ago I was standing outside just talking to a buddy and this guy just whipped in front of me and I went oh my god it's Jim Lee. And who is one of my absolutely favorites, comic book artist of all time. When I was a kid I remember saving for like a year and a half. I saved up a hundred dollars and I went and bought like a signed Jim Lee comic book. It was at some crappy comic book store. And he had portfolio tubes and was running to a panel and he knew who I was and I freaked out and "Oh my god it's Drunk Uncle" and he's a very nice guy. And so many amazing people just walk by. It's like Nerd Mardi Gras. I love how everyone is so business and wants to get exclusive things, and then at like eight o'clock it's just nerds getting drunk and trying to have sex with each other. It's very different energies at night time. And where else can you go to a party on a pirate ship?
Chong

When people go to parties do they still carry around the like giant bags they get? That's all I see when I go around is giant bags. It's all they have.
Moynihan

I referenced that pirate ship and it was amazing. Two years ago was an Assassin's Creed party on that pirate ship. And I was talking to a girl who had a giant bag with Henry Cavill's face in it and she moved and there he was standing behind her. And I had a couple in me but it was the best visual I've ever seen. Just a man's face and then the man behind it!
---
---
Ad blocker interference detected!
Wikia is a free-to-use site that makes money from advertising. We have a modified experience for viewers using ad blockers

Wikia is not accessible if you've made further modifications. Remove the custom ad blocker rule(s) and the page will load as expected.