This article is about the television series. You may be looking for the webcomic.

We Bare Bears is an American animated television series that was based off the Three Bare Bears webcomic, which is created by Daniel Chong for Cartoon Network. The show follows three bear siblings: Grizzly, Panda and Ice Bear (voiced by Eric Edelstein, Bobby Moynihan, and Demetri Martin respectively), and their awkward attempts at integrating into the human society and takes place in the San Francisco Bay Area. The series premiered on July 27, 2015. It is rated TV-Y7.
Based on Chong's webcomic The Three Bare Bears, the pilot episode made its world premiere at the KLIK! Amsterdam Animation Festival, where it won in the "Young Amsterdam Audience" category.
We Bare Bears
was pitched to Cartoon Network as "Three Bear brothers try to assimilate into the human world." Daniel Chong states there were lots of drawings involved in the pitch.
[1]
Voice Cast
Main Cast
Supporting Cast
Guest Cast
Cast Members in Other Languages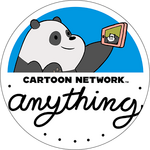 Trivia
We Bare Bears is the first Cartoon Network original series to have two consecutive episode bombs.
The style of the first few episodes resembles the style used in the Pilot, both having thicker lines and a bit of a bouncier feel. Newer episodes, though being much more fluid and still retaining that bouncy feel, use thinner lines and feel more unique to itself.
On August 13, 2015, We Bare Bears was renewed for a second season.[2]
On August 20, 2015, Cartoon Network released a game for We Bare Bears, called Free Fur All.
On October 2, 2015, Cartoon Network partnered up with Scratch to create a We Bare Bears studio and related assets on the site. These assets were then made available to the public on December 4, 2015.
The second half of Season 1 premiered on February 11, 2016 during the NBA All-Star event.[3]

In spirit of the NBA All-Star event, Cartoon Network released a basketball-themed We Bare Bears game titled Bearsketball.
Promos
International
References
Ad blocker interference detected!
Wikia is a free-to-use site that makes money from advertising. We have a modified experience for viewers using ad blockers

Wikia is not accessible if you've made further modifications. Remove the custom ad blocker rule(s) and the page will load as expected.